How To Start Your Blog This Year: 10 Unbelievably Easy Steps To Follow
I'm pretty sure you have come across a lot of information if you are preparing to start your blog in 2020. Trust me, the internet can be extremely overwhelming. However, I'm here to let you know starting a blog is way easier than you think!
Long gone are the days when you need to hire a special web designer to do super complicated coding. Now you can literally create a website in a few clicks thanks to the likes of WordPress, Squarespace, and Wix. These content management systems have made it super easy for you to start your blog in 2020.
Below are 10 steps I recommend if you are serious about starting your blog in days vs. weeks. Also, don't forget to click here to download the guide for future reference.
10 EASY STEPS TO START YOUR BLOG IN 2020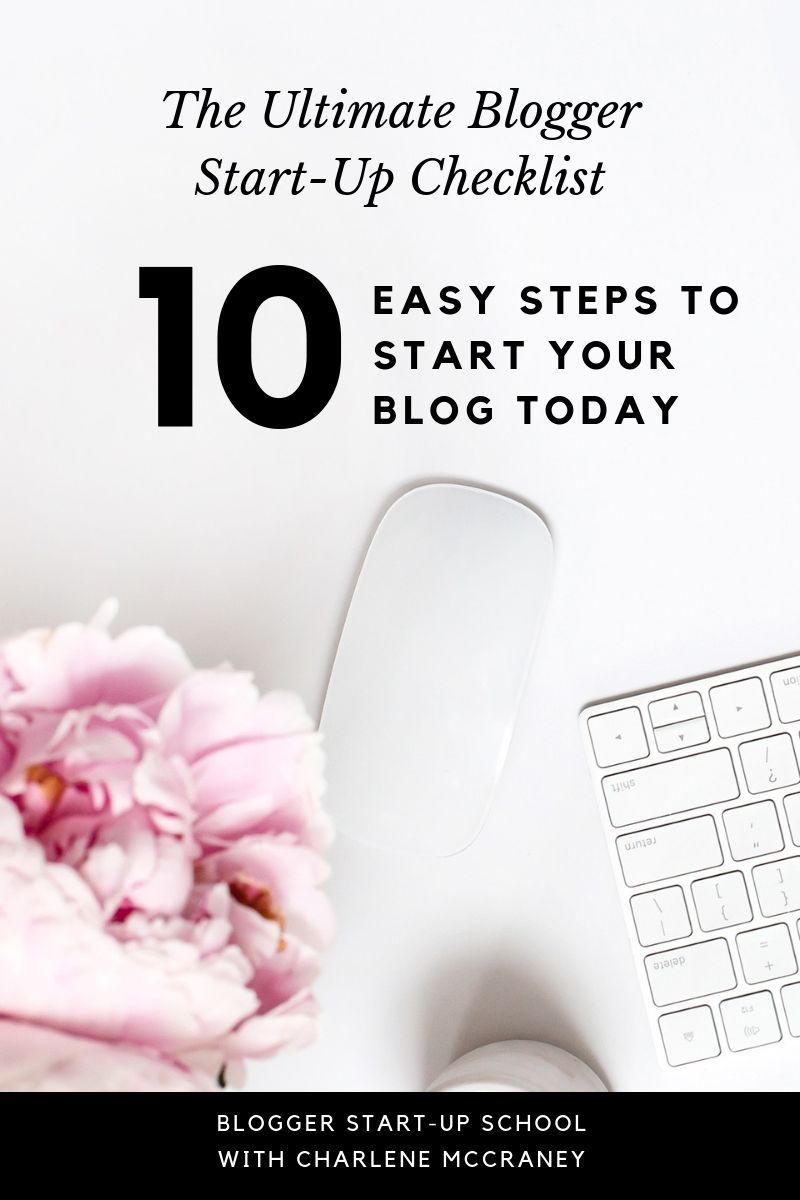 1. BUY YOUR DOMAIN NAME & HOSTING
First things first, your blog needs a home. Think of your hosting as the foundation of your home and the framing and your domain as all of the furniture inside.
There are several domains and hosting providers to choose from when starting your blog. I recommend Bluehost for anyone starting. They provide easy to set up domain registration and hosting all in one place. Their tutorials are super easy for you to follow as well.
2. SELECT YOUR PREFERRED CONTENT MANAGEMENT SYSTEM
When people ask what's the best website to start a blog with, what they are really asking is what's the best content management system. Choosing the right content management system, in the beginning, can really set the tone for your entire blog.
A content management system is software that allows you to create, edit, and publish content to a website or blog without advanced coding knowledge. Once you have your domain name and hosting, choose your preferred system and connect your website. Example: WordPress, Squarespace, WIX, etc. I prefer WordPress personally.
3. UPLOAD A DESIGN THEME TEMPLATE
Choosing a design theme is by far my favorite part of building a blog! I love being able to search and find the perfect look and design that really captures my personality.
Like I said in the beginning building, a blog is not as hard as it used to be. Places like Creative Market and ThemeForest have tons of options to choose among. You can choose a free theme or purchase a more advanced design. Each content management system has a library of themes to choose among also.
You can also pay someone to upload and design for you which is an added bonus. Some theme creators offer this as a service or you can check contractor marketplaces such as Upwork or Fivver.
4. UPDATE RELEVANT PAGES, FEATURES & SETTINGS OF YOUR BLOG
The important pages of your blog include your About page/Biography, Contact page, etc. You definitely want to make sure you add any necessary Disclosures & Copyright information.
The FTC (Federal Trade Commission) is really cracking down on bloggers and influencers to ensure people are disclosing when a post is sponsored or gifted. Furthermore, you don't want to mislead your readers. Building trust is very important as a new blogger.
Also, organize your menu titles based on the key content pillar topics of your blog. Readers should be able to navigate your blog easily and quickly if you want them to stick around and come back to read more. Lastly, review your settings to ensure all information is accurate.
5. WRITE 3-5 BLOG POSTS BEFORE YOU LAUNCH
First impressions matter and content is queen! You do not want to launch your blog to crickets. People want to see something interesting the first time they land on your website. Write 3-5 blog posts in advance so you have solid content for a great start.
However, don't just throw anything on your blog. Make sure your blog posts provide real value surrounding your blog's niche. Nothing is worse than stumbling across a blog that has content all over the place. You never want people to come to your blog and not be able to relate to the content. That's the quickest way you will lose a reader's interest.
6. SELECT AN EMAIL MARKETING PROVIDER
Social media is fickle. We can all count how many times Instagram has been down and Facebook has its own set of privacy issues. So, building your email list is one of the most important things you can do when first starting your blog.
You want to build an audience from the start and have a way to connect with them. MailChimp, Constant Contact, ConvertKit, etc. are all great options for email marketing.
7. CREATE A FREEBIE & A POP-UP FOR YOUR WEBSITE TO COLLECT EMAILS
Now that you have your email marketing account established, create a freebie to collect email subscribers when they arrive on your website. Create a pop up to add to your blog and a sign-up form. Add the pop-up to your blog and the email sign up form at the end of each blog post.
Remember: People aren't giving away their email addresses for fun so make sure you are offering something of value!
8. INSTALL IMPORTANT PLUGINS FOR YOUR BLOG
Plug-ins are powerful tools and apps needed to run a professional and successful blog. They also help to run your blog smoothly. I like to think of them as the cherries on top because they really make everything sweeter.
So, what is a plugin? According to WordPress, a plug-in is a piece of software containing a group of functions that can be added to your WordPress website and extend certain functionalities. If you are using WordPress some important plugins to have to include Akismet Spam, Google Analytics, iThemes Security & YOAST SEO.
9. FINALLY, PUBLISH YOUR FIRST POSTS!
Publish the first 3-5 posts that you pre-wrote in step 5 and triple check for spelling. If you don't use Grammarly, definitely install it on your computer. Next, add photos and optimize for SEO with the YOAST SEO plug-in from step 8.
This is also a great time to make sure your contact page works. Add your email address to the contact page just in case the plug-in hits a glitch.
10. PROMOTE YOUR BLOG POSTS EVERYWHERE!
You've made it to the last step! Now it's time to promote. Send to your blog posts to your email list, promote on social media, send directly to family & friends. This is definitely a step you don't want to take lightly. Writing is half the battle. Once you have a nice content arsenal, spend more time promoting your work and optimizing SEO.
Overall, there are a lot of smaller steps in between the 10 noted above when it comes to starting your blog but this list is a great jumpstart! Don't forget to download and save the PDF guide below of these steps.
Join the Blogger Start-Up School Tribe to get more blogging tips to your inbox every week!
STARTING YOUR BLOG JUST BECAME EASIER
CLICK BELOW TO DOWNLOAD!